International flavours experts return to tutor Verner Wheelock course
Internationally-renowned flavours experts Dr David Baines and Richard Seal are returning to Skipton, North Yorkshire, this October to tutor Verner Wheelock's popular 'Creating Savoury Flavours' course…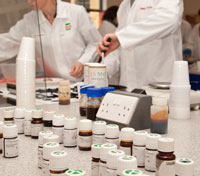 Internationally-renowned flavours experts Dr David Baines and Richard Seal are returning to Skipton, North Yorkshire, this October to tutor Verner Wheelock's popular 'Creating Savoury Flavours' course. Now in its 8th year, the 5-day intensive training programme is unique in that it is the only specialist lab-based course in the UK which concentrates solely on savoury flavours.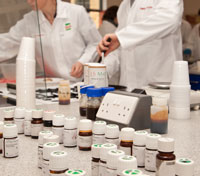 Course tutors Dr Baines and Mr Seal have decades of experience in the creation of flavours and, through hundreds of experiments over the years, have pinpointed the variables which allow for flavour profiling in meat flavour reactions. In fact the course's reputation is such that it regularly attracts delegates from leading companies around the globe.
Savoury flavourings are used to enhance a huge range of foods, from ready meals to soups, sauces, snacks and dairy products. Creating and perfecting those flavours is a highly specialised skill so flavourists attending the course are eager to expand their knowledge and technique from two of the best tutors in the business.
What is so appealing to delegates is the high practical content of the course which allows flavourists the chance to start from scratch and focus on the components and construction of a savoury flavour.  Creativity and experimentation is actively encouraged and under the tutelage of guidance of David and Richard they get to examine the interaction between flavour components and study synergies and clashes; understand how a flavour functions in the final food; and trace that performance back to individual components within the formula. The training delegates receive furnishes them with a savoury flavours toolkit which will help them to create their own savoury flavours on their return to the workplace.
Ideal for graduates working in the food, seasonings and flavour industries, Verner Wheelock's next 'Creating Savoury Flavours' course runs from 26th to 30th October 2015. As this is a specialist course, which only runs once a year, delegates are advised to book early.  More information can be found at www.vwa.co.uk or by contacting Verner Wheelock on 01756 700802.