Mitsubishi Electric demonstrates pick-and-place robot solution at Anuga FoodTec
Mitsubishi Electric will be exhibiting its comprehensive range of products designed especially for the food and beverage industry at Anuga FoodTec in Hall 07.1, Stand A109…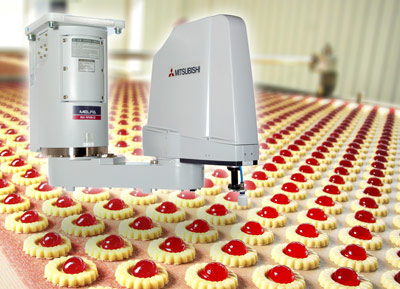 The latest overhead SCARA robot from the RH-F series guarantees impressive high-speed performance and is especially designed to carry out pick-and-place tasks in the food and beverage industry. [Source: Mitsubishi Electric Europe B.V.]
As a supplier of complete solutions, Mitsubishi Electric will be exhibiting its comprehensive range of products designed especially for the food and beverage industry at Anuga FoodTec in Hall 07.1, Stand A109. Visitors to the stand will also be able to witness the high-speed performance of the latest RH-F series overhead SCARA robot as it carries out a typical pick-and-place application. The international trade fair will take place from 24-27 March 2015 in Cologne.
Mitsubishi Electric's whole range of solutions for the food and beverage industry is displayed on a product wall so that they can all be seen at a glance. Mitsubishi Electric's portfolio of automation components ranges from low-voltage circuit-breakers, compact and modular PLCs, servomotors, motion controllers and frequency inverters to touch-screen displays and robots. The range also includes energy measurement devices and energy management solutions. Special software can help to reduce development times considerably. In addition, the fully integrated SCADA solution MAPS (Mitsubishi Adroit Process Suite) allows comprehensive system visualisation. Standard networks based on CC-Link, CC-Link IE or CC-Link Safety network technologies form the basis for continuous fast communication across the entire plant, another feature which once again increases transparency. "The logging of production data allows for better traceability. In addition, transparency guarantees high diagnostic capabilities which helps to reduce downtimes amongst other things", explains Stefan Knauf, Corporate Account Manager Food & Beverage, CPG, Mitsubishi Electric Europe B.V..
System productivity and flexibility can be improved significantly by using the high-speed robot solution on display which has been designed especially for pick-and-place tasks in the food and beverage industry. In the example application, the new Mitsubishi Electric RH-1FHR5515 overhead SCARA robot uses a vacuum gripper to pick and place delicate products like biscuits. It has a maximum operating speed of 160 picks per minute. "The RH-F series robot is one of the fastest in its class while maximum precision and rigidity guarantee a consistently high level of product quality", explains Stefan Knauf. The overhead mounting is particularly suitable for space-saving installation. An absolute encoder allows the robot to be moved easily – even by untrained personnel – for cleaning or maintenance purposes, for example.
Stefan Knauf concludes: "Mitsubishi Electric is one of the  world's leading supplier of automation solutions for the food and beverage industry. Our approach which involves providing complete solutions from a single source enables us to guarantee seamless fast communication between all the components within Production right up to systems at company level. So we can help our customers to increase quality, profitability, traceability and visualisation as well as to improve productivity, time to market and process cycles."
The world's leading trade fair Anuga FoodTec is the key driver for the international food and beverage industry. It is the only trade fair of its kind in the world and all aspects of food production are covered, including machinery, systems, packing materials, analysis and services.