£5 million worth of funding now open to boost innovation for farmers
Posted: 11 March 2015 | Department for Environment, Food & Rural Affairs and George Eustice MP | No comments yet
First phase of new Countryside Productivity scheme set to boost innovation is now open to farmers…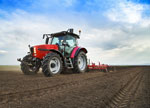 Thanks to £5 million worth of government funding, farmers can now access the best new technology to keep the UK farming industry at the forefront of innovation, Farming Minister George Eustice announced.
With the first phase of the new Countryside Productivity scheme now open, farmers, foresters and land managers across the country are being invited to apply for the grants.
This includes small grants, worth up to £35,000 per business, and also large grants worth £35,000 – £1million per business.
This money can be used to invest in improved infrastructure and ground-breaking new technology, opening up opportunities for our farmers.
Farming Minister George Eustice said:
"We want the UK farming industry to be the best in the world and this funding is an important boost for farms looking to invest for the future.

This new funding will support farmers to buy new technology which will increase their productivity and help them to become more competitive and profitable."
From installing new efficient lighting to crop robotics, this new funding will ensure that the UK farming sector can become more productive and competitive than ever.
Today farmers and researchers are also being encouraged to notify their interest for a separate set of grants which will be made available later this year under the European Innovation Partnership.
This will enable exciting, dynamic ideas for new technology to be put into practice.
More information
For more information on the new scheme please click here