Holland's Pies cook up a partnership with central foods for the foodservice sector
Holland's, one of the UK's best-known producers of pies and pastries for over 160 years, and Central Foods, a dedicated, frozen food specialist, offering a 'one-stop-shop' exclusively to the foodservice sector, have come together to increase distribution of Holland's frozen foods to wholesalers and caterers throughout the UK…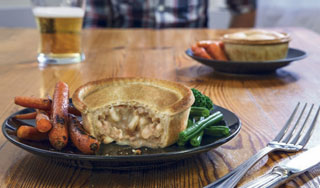 Holland's, one of the UK's best-known producers of pies and pastries for over 160 years, and Central Foods, a dedicated, frozen food specialist, offering a 'one-stop-shop' exclusively to the foodservice sector, have come together to increase distribution of Holland's frozen foods to wholesalers and caterers throughout the UK.
Holland's will provide a range of frozen baked and unbaked pies, pasties and savoury puddings for Central Foods to supply to its market channels, which includes over 210 independent delivered wholesalers, large national and regional wholesalers, and large end-user caterers across the entire foodservice industry.
Best-selling products, from Holland's, offered via Central Foods for the food service professionals, include Holland's NEW Steak & GUINNESSTM Pudding, Steak & GUINNESSTM Pastry Topped Pie, Pub Classics Chicken & Ham Pie, Potato & Meat Pie, Cheese & Onion pies, pasties and rolls, Mini Pork Pies, Sausage Rolls and much more.
Holland's wealth of knowledge and years of tradition are used throughout the creation and cooking process of its savoury ranges and its traditional cooking and baking techniques and unique shortcrust pastry ensure the final taste is reminiscent of home cooking.
Central Foods Managing Director, Gordon Lauder, said: " Holland's is the market-leading pie and pudding brand within chips shops and the retailers' frozen cabinets, with the best quality products available.  It's our job to ensure such tasty, versatile, year-round products get even wider distribution amongst the rest of the foodservice sector – something our track record proves we can achieve.  Holland's is an ideal partner for us to work with, being quality leaders in their sector with the same values as ourselves.  We are delighted to represent them and look forward to developing the market even further together."
David Girdler, spokesperson for Holland's, said: "We are very excited about this new partnership with one of the UK's leading distributors of frozen foods to wholesalers and caterers. We want to increase Holland's depth of distribution within the foodservice sector and we feel Central Foods is ideal for this, as they offer more routes to market than any other supplier in this sector. We have a fantastic range to offer, created especially for this sector, giving customers variety and quality with the distinct taste of Holland's."
Produced in Lancashire, Holland's is one of the UK's best-loved pie makers; producing a range of delicious pies, puddings and pastries. For further information on the Holland's Pie range please visit www.hollandspies.co.uk