Fluidor's bottle and carton squeezer BMPS Paste
The purpose of this machine is to recover product by separating the liquid product from its disposable or recyclable packages/bottles. It is designed to process cartons with or without plastic screw caps and plastic bottles (HDPE and PET, depending on thickness and shape) containing liquid products up to 20.000 cP…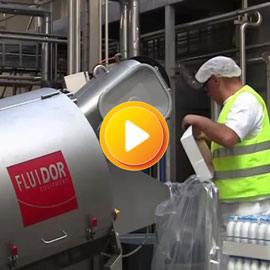 The purpose of this machine is to recover product by separating the liquid product from its disposable or recyclable packages/bottles. It is designed to process cartons with or without plastic screw caps and plastic bottles (HDPE and PET, depending on thickness and shape) containing liquid products up to 20.000 cP.
Loading of full cartons or bottles (0,2 up to 1,5 L.) manually or by means of automated dosing systems. Cartons or bottles will be squeezed inside machine, empty cartons or bottles will leave the machine at the exit side and fall into a container.
The product will be collected and fed into a lobes pump for next process steps.
For more information
Website : www.fluidor.com
Telephone : +31 162 581450
Sales : Mr. Cees Kuijper
Telephone: : +31 162 581457
Mobile : +31 6 51137427
Email : [email protected]
Spares : Mr. Wing Ho Kwok
Telephone : +31 162 581468
Email : [email protected]