English food & drink firms plan more than 65,000 new jobs within next five years
Posted: 5 September 2014 | Issued on behalf of Lloyds Bank Commercial Banking by Citypress | No comments yet
Firms in England's food and drink sector are planning to create tens of thousands of new jobs in the next five years, according to a new study by Lloyds Bank Commercial Banking…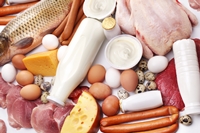 Firms in England's food and drink sector are planning to create tens of thousands of new jobs in the next five years, according to a new study by Lloyds Bank Commercial Banking.
The report, Global Ambitions, found an industry with soaring confidence and plans to invest, innovate, create new jobs and expand across the globe.
The study, which surveyed English producers and manufacturers of alcohol, fresh produce and food and drink products, was completed to understand the opportunities and challenges faced by companies in the UK's largest manufacturing sector.
Optimism in the sector is certainly high with 98 per cent of respondents saying that they expect to grow over the next five years.
The majority plan to take active steps to grow by developing new products (77 per cent), entering new markets (70 per cent) and creating new jobs (70 per cent).
The research indicates that food and drink firms will create a startling 66,942 new jobs in England over the next five years.
More key findings include:
More than three-quarters (76 per cent) of firms will target new markets in Western Europe, with more than half (54 per cent) focusing on the Far East and Asia. Just less than half (49 per cent) will seek new markets in the Middle East
Eight in ten firms (83 per cent) are confident they already have the capacity in place to cope with an upturn in production should the opportunity arise to expand into a new market
Almost two-thirds (62 per cent) said that they need marketing and brand awareness support to succeed overseas, while three in five firms (60 per cent) need better "on the ground" knowledge of their target markets
More than half (51 per cent) of respondents said that they need to invest in their production facilities to grow, while 40 per cent need to access finance
83 per cent said the cost of raw materials is a potential threat to the sector's growth plans, while 77 per cent highlighted sustainability and 68 per cent ingredient security
David Richardson, Regional Director, Head of Manufacturing, Mid Markets at Lloyds Banking Group, said: "England's food and drink industry weathered the recession well and has the same optimism and tenacity that has underpinned its success so far. The report paints a positive picture for the long-term – this is an innovative and ambitious industry set to create a huge number of employment opportunities.
"At Lloyds Bank, our relationship directors really understand our food and drink customers, helping deliver the mix of local understanding and global expertise they need to achieve their ambitions. Food and drink is without doubt a sector that will help Britain grow."
Melanie Leech is Director General of the Food and Drink Federation, the organisation that represents and advises UK food and drink manufacturers.
She said: "Product quality, brand heritage and a growing demand for our produce in international markets means that English food and drink manufacturers are well placed for the future."
She added: "If we can foster increased innovation, create a pipeline of skilled and talented individuals to support the businesses of the future and improve our export performance within a robust industrial strategy, then we can do a lot to sweep away the barriers to growth.
"This, coupled with the right entrepreneurial approach, will help our largest manufacturing sector to write the next chapter in this great British success story."