Wholesome Sweeteners and Diamond Crystal Brands announce foodservice partnership
Wholesome Sweeteners and Diamond Crystal Brands announce an exciting new foodservice partnership…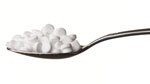 Wholesome Sweeteners and Diamond Crystal Brands announce an exciting new foodservice partnership. This new relationship takes Wholesome Sweeteners into a new era of accessibility for foodservice operators, including restaurants, cafes and coffee shops, and reinforces the Diamond Crystal Brands position as a preeminent supplier of foodservice solutions.
Diamond Crystal Brands, a recognized leader in the foodservice industry, will spearhead the marketing and sales efforts for Wholesome Sweeteners' foodservice portfolio. Wholesome Sweeteners is the leading U.S. brand of Organic, Fairtrade and Non-GMO sugars and sweetener products including agave, honey and stevia.
"Diamond Crystal Brands has had continued success with our better-for-you platform," said Mark Nellermoe, president of Diamond Crystal Brands. "The demand for Organic, Fairtrade sugars and sweeteners continues to grow and we are delighted to carry the leading brand to the industry.
 "Wholesome Sweeteners is committed to providing the world's highest quality sugars and sweeteners for everyone to enjoy, and we're delighted that the Diamond Crystal Brands expansive distribution network will create unprecedented availability of these products," said Nigel Willerton, chief executive officer of Wholesome Sweeteners. "This will not only benefit foodservice operators and their customers, but equally as important, the farmers who grow the products in an environmentally sustainable way."
For a full list of pack sizes and product selection, please contact Diamond Crystal Brands, Inc. at 1(800) 654-5115.