The CFIA Rennes is now over… An outstanding 18th edition!
Undoubtedly, this 18th edition will remain outstanding with 1,300 exhibitors and a record attendance of 16,183 visitors!…

Undoubtedly, this 18th edition will remain outstanding with 1,300 exhibitors and a record attendance of 16,183 visitors! The 2014 edition is the best session since the creation of CFIA. A wave of optimism was present during these three days, showing that despite the vagaries of the current economic climate, the food industry remains on track, with investments in innovation and improved manufacturing processes. Orders have been signed directly on stands, many contacts with projects that have been materialized, objectives achieved, for both exhibitors and visitors … The results of the 2014 edition of the CFIA Rennes is definately more than positive!
More than a show, a real event!
Many animations have come this year in order to complete a unique offer giving the event an even greater dimension than in previous years. Much more than a show, the CFIA Rennes became the major event dedicated to the food industry chain … All conferences have got a full room during those three intense days . The animations organized by our partners in conjunction with the CFIA had a great success among all professionals of the food industry with "Les Acteurs du Numérique", manufacturers have been able to test a variety of innovative solutions for the food industry service in order to anticipate the future in a better way. As for "L'Usine Agroalimentaire du Futur", visitors have experienced the full immersion into a future factory through virtual reality, and the prowess of the 3D printer.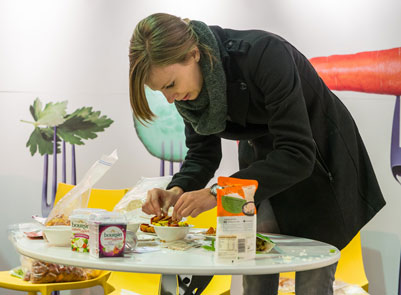 With the animation "Work in Agro", linking students with industry professionals was favored not only by job offers posted throughout the duration of the show , but also by the exchange in a professional and friendly place, to create or consolidate contacts.
By "Les Coulisses des Produits" the CFIA showed, in partnership with the "Centre Culinaire Contemporain" and "Le Manager de l'Alimentaire", a perfect example of the combination of innovation and production … a way to make both tribute to the expertise of exhibitors and industrial creativity. Finally, the Club PAI with the "Innovation Tour" has illustrated, through perfect examples of the PAI Ingredients, the latest trends in food consumption.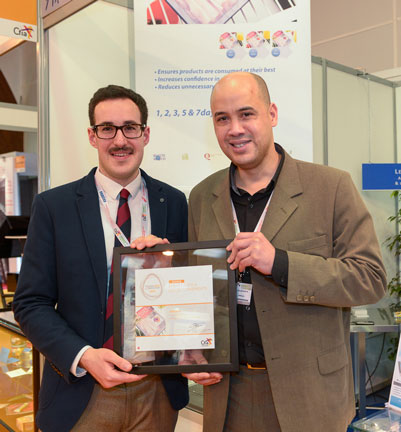 The Awards Dinner of the "Trophees de l'Innovation" dedicated to the Food Industry suppliers creativity, was also one of the highlights of the CFIA, collecting nearly 1,200 people. The winners of the CFIA 2014 are:
In Ingredients: CHR HANSEN S.A.S. with Fresh Q
In Equipments & Processes: GEA PROCESS ENGINEERING with Eco-IcePushTM
In Packaging and Packing: ADEPT TECHNOLOGY France with Adept Softpic
In Quality, Higiene and Services: SPECTRALYS INNOVATION with Fluoralys
We hope to see all suppliers of the Food Industry for the 19th edition of the CFIA Rennes on March 10-11-12 2015!