BIOTECON Diagnostics speeds up food testing with foodproof® GMO solutions
With the foodproof® GMO product line, BIOTECON Diagnostics offers a wide range of easy and reliable assays for the detection and quantification of GMO…
Many countries worldwide have implemented legislations for the use, cultivation and labelling of foodstuffs containing genetically modified organisms (GMO). These regulations allow usage of GMO under certain conditions, often including a defined threshold for labelling, or the import and use of GMOs is prohibited. Thus, reliable methods for the detection, identification and quantification of GMOs in food and feed are required.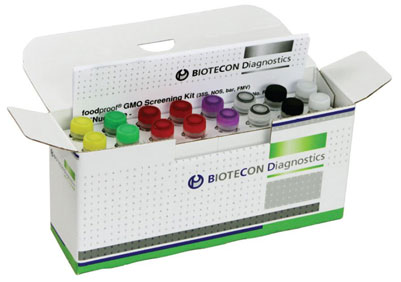 With the foodproof® GMO product line, BIOTECON Diagnostics offers a wide range of easy and reliable assays for the detection and quantification of GMO. The foodproof® GMO Screening Kits facilitate a fast, safe and easy detection in food samples, and the foodproof® GMO Quantification Kits provide a precise and sensitive determination of the relative GMO content in accordance with EU regulations.
The recently launched foodproof® SL product line offers event-specific GMO identification assays for the qualitative detection of GMO ingredients. For effective and fast analysis most of the kits are multiplex. All kits are based on real-time PCR technology for fast results and best specificity.
Since manual methods are time-consuming and analysis results depend on qualification and quality of lab personnel, BIOTECON has developed an automated DNA extraction solution for GMO, Allergens and Animal Identification that speeds up testing. In just 35 minutes 96 samples can be processed with the foodproof® Magnetic Preparation Kit III in combination with the KingfisherTM Flex. This allows the extraction of ultra-pure, ready to use genomic DNA for enhanced performance in sensitive real-time PCR applications. The assay is easy to use and effective, gives reproducible results and helps to cope with increasing sample throughput and testing demands.
Related topics
Related organisations