Heineken Holding N.V reports 2013 half year results
The net result of Heineken Holding N.V.'s participating interest in Heineken N.V. for the first half of 2013 turned out at €320 million…

HIGHLIGHTS
The net result of Heineken Holding N.V.'s participating interest in Heineken N.V. for the first half of 2013 turned out at €320 million;
Group revenue grew 3% including the full consolidation of APB[1]; organically, group revenue 1% lower with a total volume decline of 3% and revenue per hectolitre up 2%;
Group operating profit (beia) increased 5%; organically, group operating profit (beia) was in line with last year;
Strong underlying performance of APB, with volume growth of 10% and operating profit growth of circa 20%; integration successfully completed;
Developing markets delivered 7% organic operating profit (beia) growth and now comprise half of group operating profit (beia);
€139 million of pre-tax TCM2 cost savings delivered in the first half of 2013; additional programme cost savings of €100 million identified;
Net profit (beia) of €679 million, broadly in line with prior year on an organic basis;
OPERATIONAL OVERVIEW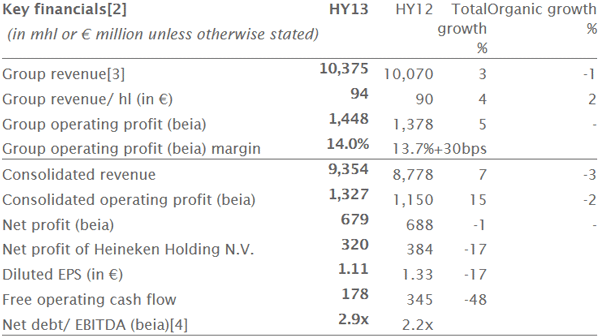 [1]Asia Pacific Breweries and Asia Pacific Investment Pte Ltd
[2]Refer to the Definitions and Glossary sections for an explanation of non-IFRS measures and other terms used throughout this report; 2012 financials have been restated for the impact of revised IAS19
[3] New Group metrics have been introduced to provide better insight into the contribution of HEINEKEN's joint venture and associate businesses to overall group performance. Group figures are calculated as the sum of all consolidated operations and HEINEKEN's attributable share in joint ventures and associates. Comparative 2012 financials have been adjusted for the impact of revised IAS19, which is treated as an inorganic item. Reference is made to the Heineken N.V. press release of 6 August 2013.
[4]Includes APB on a 12 month combined pro forma basis
Heineken Holding N.V. engages in no activities other than its participating interest in Heineken N.V. and the management and supervision of and provision of services to that company.
OUTLOOK STATEMENT
(Based on consolidated reporting)
Top-line: For the remainder of the year, economic uncertainty and ongoing weak consumer sentiment is expected to persist across many key markets. Consequently, although HEINEKEN benefited from better weather conditions in July in Western Europe and anticipate improved volumes in some developing markets, HEINEKEN does not expect a material change to underlying trading conditions across the majority of its markets.
Marketing and selling expenses: HEINEKEN still expects marketing and selling (beia) expense as a percentage of revenue to remain broadly stable in 2013 (2012: 12.2%) demonstrating a continued commitment to invest in brands and innovation.
Input costs: HEINEKEN still forecasts a slight increase in input cost prices in 2013 (excluding the effect of currency translation).
Total Cost Management 2 (TCM2): Following the identification of additional cost savings, HEINEKEN now expects to realise an approximate €625 million (previously €525 million) of cost savings under the 3-year TCM2 programme ending 2014. HEINEKEN expects to incur an approximate €70 million of upfront Global Business Services (GBS) costs in 2013.
Effective tax rate: HEINEKEN still expects the effective tax rate (beia) in 2013 to be in the range of 27% to 29% (2012: 26.6% restated for revised IAS19). The higher tax rate can be primarily explained by the result of favourable outcomes with tax authorities in 2012 and the full consolidation of APB which is subject to a higher effective tax rate.
Interest rate: HEINEKEN still forecasts an average interest rate of around 4.5% in 2013 (2012: 5.4%) reflecting lower coupons on recent bond issuances.
Acquisition of APB: The acquisition of APB is still expected to be marginally accretive to earnings per share in 2013.
Net profit (beia): HEINEKEN expects net profit (beia) to be broadly in line with last year on an organic basis. The combined impact of consolidation changes and foreign currency translation movements are expected to reduce full year 2013 net profit (beia) by approximately €25 million. This includes a negative consolidation impact of €40 million in 2013 related to revised IAS19.
Cash flow/ capital expenditure: In 2013, capital expenditure related to property, plant and equipment (including APB) is forecasted to be €1.4 billion (previously €1.5 billion; 2012: €1.2 billion). HEINEKEN still expects a cash conversion ratio of below 100% in 2013. HEINEKEN remains committed to achieving its long-term target net debt/ EBITDA (beia) ratio of below 2.5 times by the end of 2014.
INTERIM DIVIDEND
According to the articles of association of Heineken Holding N.V. both Heineken Holding N.V. and Heineken N.V. pay an identical dividend per share.
In accordance with the existing dividend policy, HEINEKEN fixes its interim dividend at 40% of the total dividend of the previous year. As a result, an interim dividend of €0.36 per share of €1.60 nominal value will be paid on 3 September 2013. Both the Heineken Holding N.V. ordinary shares and the Heineken N.V. shares will trade ex-dividend on 23 August 2013.
DEFINITIONS
Organic growth excludes the effect of foreign currency translational effects, consolidation changes, accounting policy changes, exceptional items and amortisation of acquisition-related intangibles. Beia refers to financials before exceptional items and amortisation of acquisition-related intangibles. Group figures include HEINEKEN's attributable share of joint ventures and associates. Organic growth calculations assume HEINEKEN's joint venture share of 41.9% of APB and 50% of APIPL prior to consolidation is maintained through to 15 November 2013. Organic growth of consolidated volume, consolidated revenue and consolidated operating profit (beia) excludes any impact from APB/APIPL. Organic growth on group volume and group financials includes an impact from APB/APIPL. Organic growth calculations are adjusted for the previous 3-month delay reported by APB and APIPL, without a restatement to 2012. Comparative 2012 financials have been adjusted for the impact of revised IAS19. In 2013, the first time impact of revised IAS19 on operating profit (beia), EBIT (beia), net profit (beia) and EPS (beia) will be treated as a non-organic item.