Tyson Foods CEO talks about leadership at Chicago Event
Donnie Smith, Tyson Foods, Inc., participated in a panel discussion on "Making Long-Term Decisions in a Short-Term World"…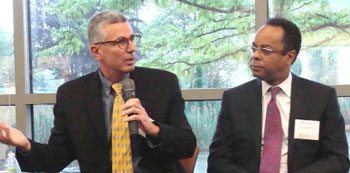 Tyson President and CEO Donnie Smith and Quintin Primo, CEO of Capri Capital
Donnie Smith, president and CEO of Tyson Foods, Inc., participated in a panel discussion on "Making Long-Term Decisions in a Short-Term World" Thursday to approximately 200 business executives. The Executives' Club of Chicago event was held at Nicor Gas in Naperville, Ill. and was part of the Club's Leadership Circle Program, a series targeted to emerging Chicago-area leaders under the age of 40.
The panel discussion provided insights on long-term value creation, investing and regulatory challenges. Panelists also discussed personal best practices on managing schedules and balancing priorities. The panel also included Martin Slark, vice chairman and CEO of Molex; Quintin Primo, CEO of Capri Capital; and was moderated by David Hanfland, a partner at A.T. Kearney.
Smith has worked at Tyson Foods for nearly 33 years and was named president and CEO of the company in 2009. He made some of the following remarks during the discussion:
Short-Term Thinking versus Long-Term Challenges: In food and agriculture "we spend a lot of time" balancing short and long-term matters. "We've got to put dinner on the table at night, but we've also got to invest in the technology…to produce twice as much food in the next 40 years to feed a growing population, and do that globally."
Prioritizing Time: "We're a culture and values-based business, and so those boundaries help keep us focused on the things that are most important. I think it's critical that I spend my time and limit my time to the roles and responsibilities of my job and to our strategy…let me put it this way, I think it's just as important to have a to-don't list as it is to have a to-do list."
Culture of Innovation: "Somebody said culture eats strategy for breakfast…at the senior level our real job is to provide the environment where innovation can thrive, where people aren't afraid to take risks…it's really about having the culture and having folks comfortable bringing their perspective to the table. I also can't overemphasize a leaders' role in establishing a culture where people are free to know they can fail as long as they don't fail to execute…that's the kind of culture we want to create because that's where new, innovative food ideas come from."
The Executives' Club of Chicago, founded in 1911, brings together business, civic, and academic leaders from all industries in a variety of forums to address challenges and opportunities that affect Chicago and the world.
Related organisations
Related people