Kerry Foods announces new pasta Dishes for Bisto ready meal range
Kerry Foods is investing in its first ever consumer advertising campaign for Bisto frozen ready meals…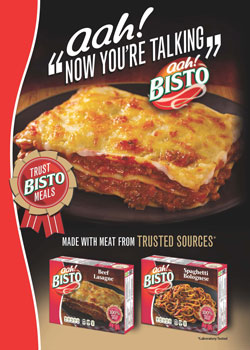 Kerry Foods is investing in its first ever consumer advertising campaign for Bisto frozen ready meals and announces plans for two new pasta meals. The ad campaign, which launches across national press and women's magazines on 18th March, is designed to reassure consumers and highlight that they can trust in the quality of Bisto frozen ready meals.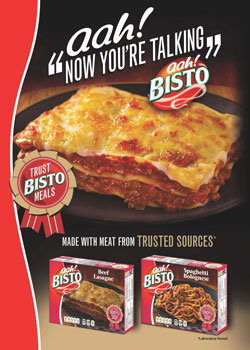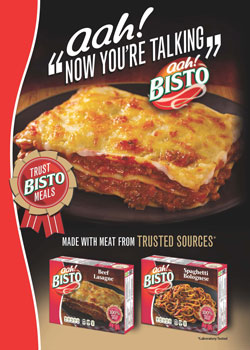 The adverts show a delicious ready prepared meal with the line "Aah now you're talking…" linking to the current Bisto TV campaign, with the line "Made with meat from trusted sources!" designed to reassure consumers. Bisto is one of the best loved and most enduring of all British brands and all of the quality ready meals include the great taste of Bisto gravy.
The campaign will trade on the heritage of Bisto to drive sales for the range and encourage consumers to purchase meals from the brand they know and trust.
In addition to the ad campaign two new pasta dishes will be added to the range: Lasagne and Spaghetti Bolognese, both of which are favourite recipes amongst British families and two of the top selling frozen ready meals. This is a deliberate strategy by Kerry Foods to fill the gap in the market with a trusted option from a heritage brand. Made from 100% minced beef from trusted sources, the dishes will be supported by a second wave of advertising, with the "Aah now you're talking…" press campaign focusing specifically on the new meals.
The two new dishes are available to all retailers now and on shelf in independent retailers from 1st April (available through convenience delivered wholesalers & cash & carries) with a retail price of £1.50. The current range of Bisto meals are available across all major multiples and independent retailers, with Everyday Meals retailing at £1.50 and Roast Meals retailing at £2.50.