The door for the food industry: high performance door rapid food
In order to protect human health, stringent hygiene regulations are found in all areas of the food industry…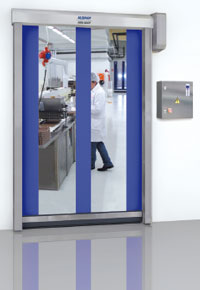 In order to protect human health, stringent hygiene regulations are found in all areas of the food industry.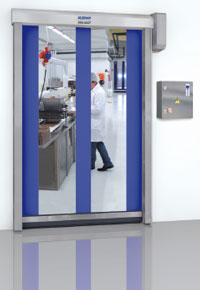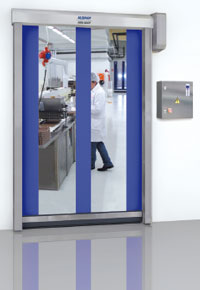 This puts a high demand on the standards for systems used in food production areas. The high performance door Rapid Food from Albany was developed to separate production areas from each other safely and to ensure smooth logistics operation. The innovative design of the door's stainless steel sideframes was developed to refl ect the special cleaning needs in food manufacturing. The unique design eliminates substances from being caught in the door structure by combining straight smooth surfaces with optional easy open hinged elements. Various curtain designs including FDA approved and Anti-Static are available for segment specifi c needs. Its short opening and closing times also contribute to the area's climate control.
The DGUV (Institute for Occupational Safety and Health of the German Social Accident Insurance) has certifi ed and awarded this high performance door with the test mark "hygiene tested" because it conforms with the mandatory requirements of food safety regulations. The Rapid Food from Albany was designed for use throughout the entire food industry. One case study is the company Milupa, in Fulda Germany, who's production of baby and infant foods, as well as clinical products, underlie stringent food safety regulations. Milupa opted for this High Performance Door solution from Albany because it meets their requirements of the Good Hygiene Practice (GHP) and also matches the HACCP concept implied by Milupa.