National French project – SATIN (SAFE TIN BREAD)
The national collective research project « SATIN » (safe Tin Bread) has started in January 2012 for 48 Months duration…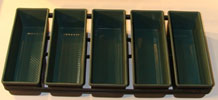 SATIN focuses on bread baking in industry. Set of pans such as shown in this picture are considered. (photo – source ONIRIS)
The national collective research project « SATIN » (safe Tin Bread) funded by the French agency for research (ANR – Agence Nationale de la recherche) has started in January 2012 for 48 Months duration. It aims at designing solutions for the production of healthy and sustainable breads; what is targeted in particular is to assess and to control the possible risk of transfer of anti-stick coating compounds into the bakery products in the case of ageing of the anti stick coating. Neo formed compound from inoffensive precursors is also targeted.
Perfluorinated anti stick compounds are targeted within SATIN project. From a technological point of view, the project aims at a better understanding of the sticking phenomena (for pastry decapsulation out of the mould). Energy emphasis will also be considered (i.e. impact of the condition of the anti stick coating on Baking temperature). The main achievements are:
The development of more durable antistick ; the coating based on perfluorinated resins are mostly concerned.
The development of a sensor with the objective of determining the end of life of the coating in industry conditions.
The development of sensors to detect neoformed contaminants in breads.
The development of an innovative low temperature baking to reduce chemical risks and energy demand for baking.
A contribution to the evolution of European standards regarding the specifications and testing procedures of antistick coating undergoing multiple baking cycles. This will be done in relationship with the Joint Research Centre of Ispra – Italy.
The dissemination of a guide of good practice related to perfuorinated antistick coating. This will be done during a final conference.
WEB SITE and ONLINE SURVEY :
The access to the web site is protected; one must first preregister on the web site to become a member. Then the web master will validate the pre registration within 24 hours.
INTEREST OF BECOMING MEMBER OF SATIN :
Access to the project's newsletter
Favoured registration to the final dissemination conference which will be held in Bruxels in end 2015.
Access to the anonymous online survey. This survey aims at a better knowledge on practice in the industry regarding antistick coating and also on expectation of the industry.
Contact : [email protected]
List of Partners of the project :
ONIRIS-UMR GEPEA – CNRS 6144 – Nantes – France
ONIRIS – LABERCA – INRA – Nantes – France
AgroParisTech – UMR INRA 1145 – Massy – France
IRSTEA – UR Technologie des équipements agroalimentaires- Rennes- France
HOLO3 – Mulhouse- France
MAE – Moules : industrie – Joué les Tours – France
UHA – Lab. de Photochimie et d'Ingénierie Macromoléculaires (LPIM – EA 4567) – Mulhouse – France
Associated partner :
Joint Research Centre Institute for Health and Consumer Protection – Unit Chemical Assessment and Testing – Ispra – ITALY