Leadership Series: New Food's Health Ingredients Month
Welcome to New Food magazine's Leadership Series 2017 as we introduce our new online feature: Health Ingredients Month…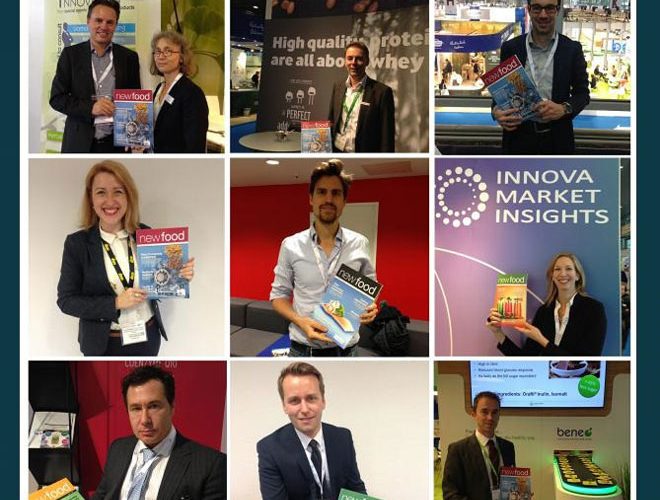 Welcome to New Food magazine's Leadership Series 2017.
In this bi-monthly feature, we will be asking leaders in the food and beverage industry to grant us unique and particular insight into innovations and issues that affect us every day. 
In our first edition that continues throughout February, New Food will present a compilation of exclusive insight from a multitude of nutrition and health ingredients experts.
Hearing from Mintel, Innova Market Insights and leading food ingredients consultants as well as insight from Beneo, Kerry and Arla, our aim is to pinpoint in particular how rapidly changing consumer trends are dictating how the food and beverage industry is evolving. 
For an initial look at who is directly contributing, we invite you to take a look at our graphic below and we hope that you enjoy the continuation of the series throughout 2017.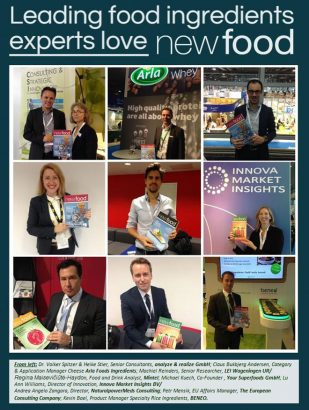 From left: Dr. Volker Spitzer & Heike Stier, Senior Consultants, analyze & realize GmbH; Claus Bukbjerg Andersen, Category & Application Manager Cheese Arla Foods Ingredients; Machiel Reinders, Senior Researcher, LEI Wageningen UR
Regina Maisevičiūtė-Haydon, Food and Drink Analyst, Mintel; Michael Kuech, Co-Founder , Your Superfoods GmbH; Lu Ann Williams, Director of Innovation, Innova Market Insights BV
Andrea Angelo Zangara, Director, NaturalpowerMeds Consulting; Petr Mensik, EU Affairs Manager, The European Consulting Company; Kevin Bael, Product Manager Specialty Rice Ingredients, BENEO
New Food's 'Health Ingredients Month'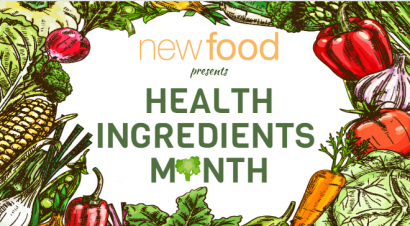 Tom Clifford, PhD, Sport and Exercise Nutrition, University of Northumbria – Can beetroot help relieve muscle pain after exercise?
Petr Menšík, Manager, EU Affairs, ECCO, The European Consulting Company – Defining the term 'natural' in food and beverage
Claus Andersen, Category & Application Manager, Arla Foods Ingredients – How dairy can lead a new waste revolution
Alex Murtough, Field & Marketing Manager, Oppo – Healthy food? It's out of reach for most of us
Kevin Bael, Product Manager, Specialty Rice Ingredients, Beneo – The unique, natural value of rice starch
Andrea Zangara, Centre for Human Psychopharmacology, Swinburne University – Plant-based ingredients and their cognitive benefits