Emerging tech trends report
Download our new report on emerging technologies to watch as we move towards a safer, more efficient and sustainable food system.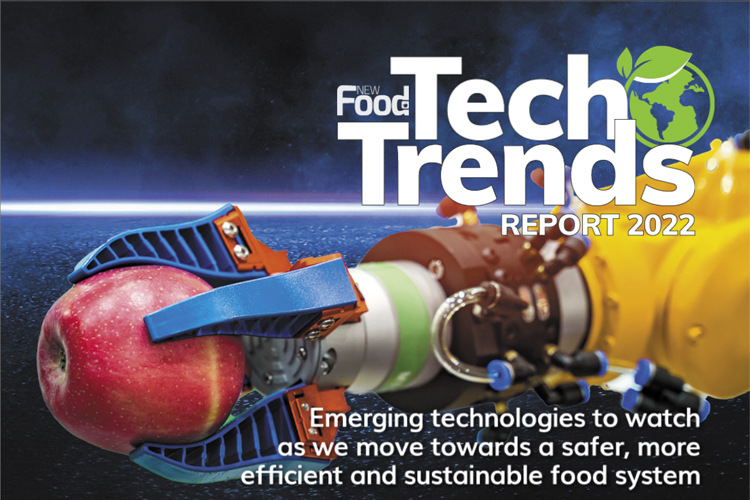 Climate change, resource depletion, population growth and increasing consumer demand place a huge weight onto our food system. In isolation, they are a daunting challenge, but managing them simultaneously is arguably the biggest obstacle we have yet to overcome. 
Within this report – a first-of-its-kind for New Food – we aim to explore the ways in which technology is addressing the issue of safe and sustainable food for all. In a balanced and honest 35-page report, the authors highlight the key tools currently available and what research dictates as technologies to watch. 
Among the pages, we hear the results of an intimate survey of food and drink professionals to discover how they see technology evolving, what is hindering their adoption, and key tech they predict will play a vital role in the future of safe and sustainable food production. 
Moreover, readers will discover ways in which leaders in the industry are utilising technology, as well as some of their own predictions around technologies to keep an eye on. Thank you to Sagentia Innovation, HelloFresh, Small Robot Company, PepsiCo, Tyson Foods, JBS and Raynor Foods for their valued insight. 
You will also be able to enjoy two in-depth video interviews with our sponsors, Agroknow and Bruker, who join our Editor Bethan Grylls in a discussion around new testing techniques and predictive AI systems.
This report is designed for food and drink manufacturers or anyone in the F&B arena keen to find out about up and coming technology that may enhance the efficiency and safety of their production processes. 
On behalf of everyone involved in the creation of this report, happy reading!