In a Nutshell: An interview with Dr Siro Perez, CEO, ToxiMet
ToxiMet was borne out of a need for an affordable, user-friendly and robust procedure enabling non-scientists to accurately measure food toxins, especially mycotoxins, throughout the global food supply chain…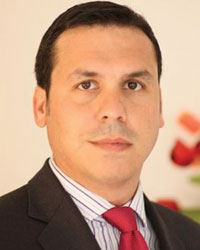 Dr Siro Perez, CEO, ToxiMet
Founded in 2005 as a University spin-out by Professor of Food Safety Ray Coker, ToxiMet was borne out of a need for an affordable, user-friendly and robust procedure enabling non-scientists to accurately measure food toxins, especially mycotoxins, throughout the global food supply chain. After investing over six million British pounds in developing the technology, and thanks to the joint effort of a highly experienced R&D and management team, ToxiMet is today a successful commercial organisation with instruments present in five continents.
"At ToxiMet, we believe food safety should be available and accessible to everyone," says Dr Siro Perez, CEO at ToxiMet. "To achieve this vision, we have developed a revolutionary new system for measurement of food toxins, making it easy for non-scientists to accurately measure the presence of toxins in food, at a fraction of the cost and time of external analytical laboratories."
So why is mycotoxin detection important? Mycotoxins are a group of naturally occurring chemicals which are produced by certain moulds and grow on a large variety of foodstuffs, such as edible nuts, dried fruit, rice, corn, and wheat. They can cause a variety of adverse health issues, including cancer, and are a major cause of food rejections at the European border. "The ToxiMet System is a platform technology that can be applied to the analysis of many substances in areas ranging from food safety and quality to the detection of human disease. The goal is to replace complex technologies with a more cost-effective, fast and environmentally-friendly solution," explains Perez.
With many existing methods for mycotoxin testing, including ELISA, LFD, HPLC and LC-MS, why was a new method needed? Perez says: "In our opinion, the existing methods fell into two categories – 'quick and cheap' and 'accurate but expensive'. The quick and cheap methods such as ELISA and LFD are fine to use in a qualitative manner but lack the accuracy, precision and limits of detection required for regulatory purposes." These technologies typically use antibodies for the detection of toxins, but because of the various food matrixes used and as many toxins are similar to each other, the antibodies frequently cross-react thereby producing false positives and negatives and large variations in the results. "Companies with a focus on high quality control standards just cannot use them due to the lack of accuracy," says Perez.
"The 'accurate and expensive' methods like HPLC do provide the sensitivity, precision and accuracy required by strict regulations, but they are complex to use and expensive to maintain. These methods are mostly only accessible to specialised analytical laboratories with highly-trained technicians, and those laboratories charge a lot of money to perform the tests and can take several days to return results. This is a huge issue for food and feed companies as it can cause significant delays to their operations. Customers are faced with a difficult compromise – either keep costs down and operations fast at the risk of shipping contaminated products, or keep better control of their products but at a large cost and with the prospect of constant delays while products are sent to external laboratories."
ToxiMet's system was created to provide customers with a method that is fast, cost-effective and delivers accuracy and precision similar to high-end technologies. "The system was designed to be non-compromising in terms of accuracy and precision but with the final user in mind, so it would be easy to use, fast and cost-effective," explains Perez. "ToxiMet's R&D team adopted the best properties from existing high-end models but incorporated recent advances on miniaturisation, high-precision engineering and computation to deliver the solution at a fraction of the cost."
One of the advantages with ToxiMet's system is that the technology was developed to avoid the use of antibodies on the detection step, thereby avoiding the cross-reactivity issue. "This has enabled us to present highly-precise individual results for toxins that are extremely similar – for example the four Aflatoxins (B1, B2, G1, G2) – which was something previously only possible to perform with very expensive and complex equipment," reveals Perez.
The system has been very well received to date. Since the global launch in Singapore in summer 2012, ToxiMet's instruments have been acquired in numerous countries worldwide, including the US, China, Vietnam, Senegal, Georgia, Australia and Italy among others, and earlier this year ToxiMet received the INC Innovation Award at the 30th Anniversary World Nut and Dried Fruit Congress in Barcelona. "The award highlighted the system as the technology of choice for producers in the nut and dried fruit industry," says Perez. "We've received some outstanding customer feedback confirming that our system has reduced testing and warehouse costs, provided accurate results and made life easier for our customers. We look forward to continuing to help food and feed companies around the world better control the quality and safety of their products while helping them to reduce costs and improve the efficiency and speed of their operations."
Issue
Related organisations