Panel discussion: the resilience of food systems
Supported by:

In the wake of Covid-19, the war in Ukraine and escalating food costs, how has our vision of food system resilience changed? And how do we achieve this new ideal? These questions and more will be explored in this panel discussion in partnership with Foods Connected. 
We asked what food system resilience really is, and explored how supplier diversification, traceability, education, and the adoption of new tech and data developments can all play their part in developing a more robust food system.  
Learning objectives:
To identify the strategies needed to fortify systems against future shocks
To explore diversification and what it means to the supplier pool
To understand the benefits of a digital infrastructure and how it can anticipate when issues may arise
To engage with the steps needed to move towards a sustainable, less impactful food system
To analyse the importance of transparent supply chains in building resilience
Speakers

Professor Chris Elliott, Founder of the Institute for Global Food Safety at Queen's University
Professor Chris Elliott has been a driving force behind implementing new food safety protocols in the UK. He led an independent review of the UK food system in the wake of the horsemeat scandal in 2013 and the FSA's Food Crime Unit was set up on his recommendation.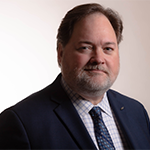 Dr Darin Detwiler,

Professor of food policy and corporate social responsibility at Northeastern University
Professor of food policy and corporate social responsibility at Northeastern University and well-respected food safety advisor and author.  For 30 years, he has played a unique role in controlling foodborne illness: twice appointed to the USDA's National Advisory Board on Meat and Poultry Inspection, represented consumers with NGOs, served on Conference for Food Protection councils, and supported the FDA's implementation of FSMA, and current Chair of NEHA's Food Safety Program Committee.  He is the recipient of IAFP's 2022 Ewen C.D. Todd Control of Foodborne Illness Award as well as their 2018 Distinguished Service Award.

Dr Fiona Roberts, Technical supply chain analyst at Foods Connected
Specialising in animal welfare and One Health issues, Dr Fiona Roberts has over 30 years of experience in the food industry. She works across monogastric, ruminant and aquatic species addressing farm, transport and slaughter considerations. Dr Roberts has an undergraduate degree in Physiology, Biochemistry and Nutrition of Farm Animals, as well as a PhD in Pig Nutrition and Physiology, and a post-doctoral diploma in One Health & Sustainability.