QC of infant food – robust & efficient analysis of nutrients, additives, and contaminants
Supported by:

Infant formulas and baby food must meet clearly defined nutritional requirements and quality standards.
In this webinar, Metrohm presents ion chromatography (IC) as a robust and efficient analytical technique for manufacturers, analytical laboratories, and public authorities to maintain and comply with these standards and requirements.
The benefits of IC for routine analysis will be demonstrated through applications ranging from carbohydrates to micronutrients, and contaminants such as nitrate, nitrite, and melamine.
A special focus will also be placed on automation and inline sample preparation techniques, which can boost efficiency significantly when dealing with large sample series every day.
All in all, our speaker will provide a comprehensive overview of the flexibility and viability of IC as a preferred technique for the analysis of baby food and infant formulas.
Key learning objectives:
Explore the use of IC for straightforward routine analysis of inorganic anions and cations, carbohydrates, GOS/FOS, choline, melamine, and more
Understand how efficiency of this multi-parameter technique is boosted by automation and inline sample preparation techniques to save time and increase sample throughput
Learn about the flexibility of IC and how your IC system can be easily upgraded for future analytical requirements
Speaker: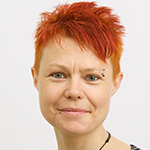 Dr Elke Suess, Application Specialist IC, Metrohm AG

Elke Suess is currently Application Specialist for ion chromatography at Metrohm International Headquarters in Herisau, Switzerland.
In 2011, she received her PhD in Environmental Geochemistry from University of Bayreuth, Germany.
After more than 10 years research on trace elemental speciation with hyphenated mass and high-end x-ray absorption spectroscopy  at different Universities and research institutes in the US, France, and Switzerland, Elke joined Metrohm in 2018.
In the Competence Center for Ion Chromatography, she is responsible for trace elemental speciation using IC and hyphenated techniques as well as for carbohydrate analysis using amperometric detection. She is involved in user trainings, application development as well as participating in standardization work in various committees such as AOAC, ISO, DIN, and SNV.