Pesticide residues – we're on to you!
Supported by:

In our latest webinar, SCIEX will demonstrate a new way forward for food and environmental testing using the SCIEX ZenoTOF 7600 system.
As food and environmental safety is larger driven by regulations, identification and quantification of contaminants is vital to meet those requirements and to ensure the safety of consumers.
Food businesses are responsible for complying with maximum residue levels (MRLs) for the food they produce and import, meaning stringent quality and food safety standards should be set and met by all.
In this webinar, the capabilities of the SCIEX 7600 system are demonstrated when conducting a highly multiplexes analysis of 271 pesticide analytes in an olive oil matrix. With new developments in technology aiding accuracy and confidence in food and environmental sample analysis, discover how this workflow could be the solution to the challenges your lab may face.
Key learning objectives:
Learn about recent advances in food testing, with particular focus on pesticide in an olive oil matrix
Discover how you can improve targeted analysis workflows with increased sensitivity
Find out the benefits of our technology, which performs in linearity, reproducibility, mass accuracy, library spectra and ion ratio
Uncover the wonders of SCIEX OS for data processing techniques for targeted analysis
Download our tech note today >>
 Speaker: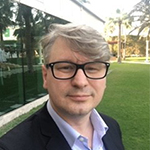 Daniel McMillan, Senior Market Development Manager, food and environmental, SCIEX
Daniel McMillian has been working in the mass spectrometry (MS) industry for more than 20 years as an instrument and applications specialist. He is now responsible for developing the food, environmental and cannabis markets throughout the EMEAI region at Sciex. 
Daniel has worked with major research and regulatory organisations to develop new applications in line with legislation, traditionally in the area of contaminant analysis. In his current role, he focuses on the development of relevant solutions for the industry's biggest challenges.
Contact Daniel >> [email protected]