Better ways of using audit and compliance data to improve food safety and quality
Supported by:

In this on-demand webinar, Jochen Kleboth outlines how to employ audit and compliance data in a streamlined manner to increase food integrity and quality.
This Intact webinar presents a revolutionary new way to analyse audit and compliance data and use it to increase integrity, safety and quality – all in a fraction of the time previously needed.
The main hurdles in audit analysis are the lack of time and limited experts capable of reviewing audit results. Therefore, most organisations only check random audit and compliance data samples, and risk missing critical results.
Speaker, Jochen Kleboth, has experienced the frustration of inefficient audit and compliance data solutions first-hand as an auditor and quality manager. Convinced that there must be a better way of doing things, he began his award-winning research on solving this problem with artificial intelligence (AI) and machine learning – together with audit and certification software provider Intact.
Their collaboration culminated in the development of Intact Analytics, a complete, easy-to-use audit analysis toolset, which has been successfully implemented by key stakeholders in the area of food safety, like IFS – International Featured Standards.
In this webinar, Kleboth will show how intelligent software solutions help one achieve the following:
Go beyond random samples and analyse 100 percent of audits
Automatically detect critical audit results
Automatically identify risks and root causes
Help experts focus on what matters and work more efficiently
Improve risk-based planning
Key learning objectives:
Learn how you can analyse more audits and compliance data in less time without sacrificing quality
Explore new ways of using audit and compliance data to ensure integrity and safety
Find out how to leverage audit and compliance data to identify risks and improve risk-based planning
Understand how software can improve and revolutionise your audit analysis.
Speaker: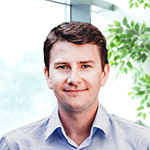 Jochen Kleboth, Head of Intact Analytics, Intact
With a background in food safety and data analytics, Jochen Kleboth brings data science to real issues in food safety. For more than 15 years, Jochen has been a noteworthy contributor to the food certification analytics space. He holds a degree in food safety and biotechnology and has won several academic awards for his research at the intersection of food audit management and the use of artificial intelligence (AI).
At Intact, Jochen puts his research into practice, leading the Intact Analytics business unit. He works with key players in food safety, developing AI-based software solutions that help food companies, certification programmes owners, and certification bodies increase audit integrity and food safety.