Major Scottish brands unite for launch of whisky fruit cake
10 May 2016 • Author(s): Mandy Parrett, Editorial Assistant
The reputable Scottish brands, Dean's and Tomatin, have launched a new partnership to create a Tomatin Single Malt Whisky Fruit Cake.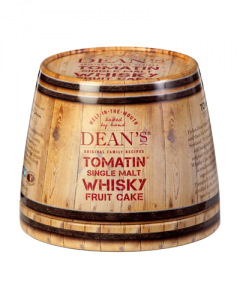 The Scottish companies – Dean's who manufacture shortbread and biscuit products and Tomatin, distillers of single malt whisky – currently export to almost 80 countries throughout the world and work with multiple UK supermarkets and independent retailers. The exciting new partnership will introduce a delicious rich fruit cake to appeal to customers of both the established brands.
Fruit cake with Scottish flavour
Baked at the Dean's factory in Huntly, the fruit cake, steeped in Tomatin Legacy Single Malt Scotch Whisky and presented in a unique whisky cask style tin, has previously been unveiled at the international trade fair, ISM Cologne in Germany. Having now matured for over a month, the cake is now available to buy in store and online.
Unique origins
Dean's began as a cottage industry venture by Helen Dean – who baked shortbread to raise funds for the local pipe band – and has since grown into an award-winning household name in Scotland, now spreading to the rest of the UK and internationally.
Similarly, Tomatin Distillery is a company with unique origins as their whisky has been distilled in Inverness-shire since 1897 in a distillery that is community based. This means that 80% of staff live on-site – the business having seen generations of families live and work there.
Tomatin has recently been recognised with several industry awards, including Best Single Malt Scotch Whisky13-19-year-old at the San Francisco World Spirits competition.
Best of both worlds
Bill Dean, Managing Director at Dean's commented, "At Dean's we are always pleased and very excited to be offering new products to our customers. I'm delighted to be able to take our first steps into another new product with the release of the fruit cake." 
He continued, "We're even more pleased to be launching the new cake with our partner Tomatin whose whisky we have admired for a long time. It's a fantastic time to be working with other Scottish exporters and we look forward to a continued relationship."