Debbie Robinson
Managing Director, SPAR UK Ltd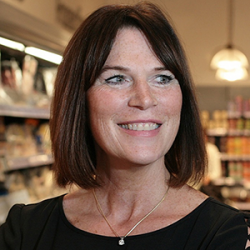 As UK Managing Director, Debbie Robinson has guided SPAR through year on year growth whilst reducing costs for shoppers and retailers alike. Both sales and profits at SPAR have continued to increase, during a period where there has been a substantial reduction in revenues and profits across the retailing market. SPAR has consistently performed where many of its competitors have been unsuccessful.
Debbie champions the need of the consumer resulting in SPARs ability to meet and exceed their expectations. This is reflected in SPAR's commitment to improved health and well-being and providing a wider range of products to cover all diets. SPAR own label soft drinks category has seen dramatic sugar reduction saving almost a million pounds in sugar tax.
Debbie has also continued to drive SPAR's investment in innovation in store and also in products. SPAR was the first UK retailer to introduce Apple Pay. Innovation in wines and spirits has seen multiple awards for the category including SPARs botanical gin. Debbie supports stores seeking licenses for on trade sale of alcohol. All this has helped create a more modern and contemporary shopping experience.
SPARs leadership in entrepreneurialism and independent retailing remains Debbie's number one priority. Her passion for retail has been built over 30 year with the likes of Co-op, M&S and WHSmith amongst others. She has held directorships for food retailers specialising in store innovation and brand strategy and development globally.
Debbie is a keen supporter of local community programmes and is heavily involved in SPAR's sponsorship of athletics including the launch of the People's Podium campaign and SPAR's national charity, Marie Curie.
Debbie sits on the board of the ACS and BRC and holds a position with the NCCRRC. Outside of work Debbie has many hobbies and interests in the art and music world. She is a very keen marathon runner and has completed numerous charity cycle rides including the convenience & wholesale charity cycles for MAG (Mines Advisory Group).