ANDRITZ presents smart solutions for the beer-brewing process at BrauBeviale 2019
ANDRITZ is presenting its unrivalled range of separation and filtration technologies at BrauBeviale in Germany.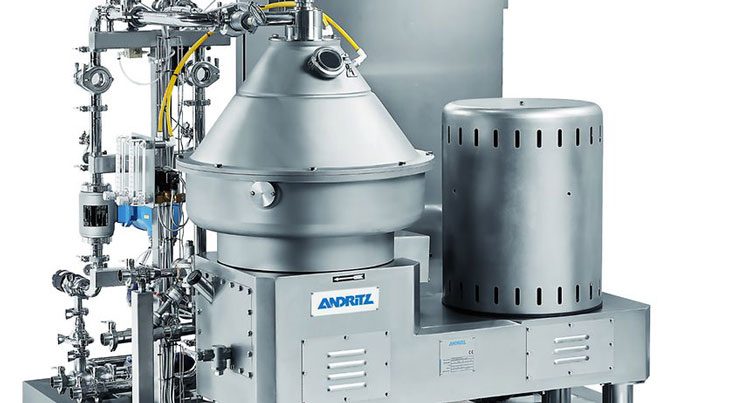 ANDRITZ ArtBREW clarifier (credit: ANDRITZ).
International technology group, ANDRITZ, is presenting its unrivalled range of separation and filtration technologies for the beer industry at BrauBeviale in Nuremberg, Germany, from 12-14 November 2019 in hall 7, booth 7-421.
Experts from ANDRITZ will be on hand to provide specialist support for a wide range of brewing processes from mash filtration to yeast beer recovery and beer filtration.
Adding value with state-of-the-art separation technologies
The ANDRITZ solutions cover a wide range of separation and filtration processes and equipment needed for beer production – from filter presses and dynamic crossflow filters to decanters and separators.
One special product designed exclusively for the brewing industry is the ArtBREW beer clarifier, the latest version of which will be showcased at BrauBeviale. Combining efficiency and ease of maintenance, ArtBREW is a high-quality and simple-to-operate beer clarification solution, which comes as a plug-and-play unit for the craft beer industry but also in large sizes for industrial beer production.
It comprises a unique inert-gas sealing system known as KO2 (knock-out oxygen) that prevents unacceptable levels of oxygen pick-up between the clarifier inlet and outlet connections. Thanks to its small dimensions and custom configuration, the ArtBREW is not only highly efficient, but also a very compact solution that is quick to install. The ArtBREW range caters to brewers of any size, with a beer clarification capacity ranging from 50 to 700 hectoliters per hour. Visitors will be able to explore the ArtBREW's control options and see the process clearly from close quarters.
Another separation technology that has proven its worth for producers of a wide range of beverages is the ANDRITZ Dynamic Crossflow Filter (DCF). Its rotating membranes allow users to separate highly viscous sludges like surplus yeast up to yeast concentrations containing more than 25 percent by weight, thereby ensuring optimum yeast beer recovery with the highest filtration quality. Because breweries no longer have to dilute the yeast with water in order to process it, the filtered beer can be blended with the mainstream without any impact on the quality or alcohol content. As a result, this method becomes an interesting alternative to traditional concentration technologies.
ANDRITZ membrane filter presses ensure that the effective filtration of mash is kept at a constant, high-quality level. As filter press filtration is a sealed process, the risk of oxidation is kept to a minimum. Additional peace of mind comes from the fact that ANDRITZ filter presses are not only easy to clean and come with the option of cleaning-in-place solutions, but the components also conform to FDA standards. In addition, brewery customers in particular benefit from the fact that ANDRITZ filter presses can be adjusted to a variety of processes and recipes.
Proven IIoT technologies
With the development of Metris addIQ control systems, ANDRITZ has taken the lead in IIoT (Industrial Internet of Things) solutions for solid/liquid separation processes and offers a wide range of innovative products and services under the Metris technology brand. These technologies allow the evolution of separation processes towards fully automatic operations. In addition to user-free operation, the biggest advantages lie in the fields of predictive maintenance and risk mitigation. The innovative automation solutions add a new dimension to the performance of production facilities by minimising downtime and maximising product yield, quality, and consistency – even for operations that are already up and running. Furthermore, they are completely scalable and backed by a specialist network of global automation experts.
One specific smart product that appeals to brewers is the intelligent filter press from ANDRITZ. Equipped with a Metris addIQ control system, the intelligent filter plate within the filter press is able to measure the residual moisture content in the spent grains while simultaneously monitoring this factor online. This means that the filtration process is always stopped at the ideal moment – gaining valuable filtration time and therefore a higher filtration capacity.
And the expertise doesn't end with technology – whether customers need spare parts, rentals, local service, repairs, upgrades, or modernisation of equipment, ANDRITZ is a full-service provider. From initial consulting through to service agreements, process optimisation, and training programs, ANDRITZ specialists are always looking for ways to minimise downtime and increase predictability in operations while raising overall production efficiency.
The network of 550 service specialists and global service centres ensures that ANDRITZ will always be there to support its customers for many lifecycles to come.
Related topics
Related organisations