Ensuring cleaning and hygiene standards
The rise of the ready-to-eat meal has driven cleaning and hygiene standards to an all-time high. Food technology specialist, Hein Timmerman, explores the procedures that companies should be implementing to ensure they meet these targets, while keeping costs low and efficiency high.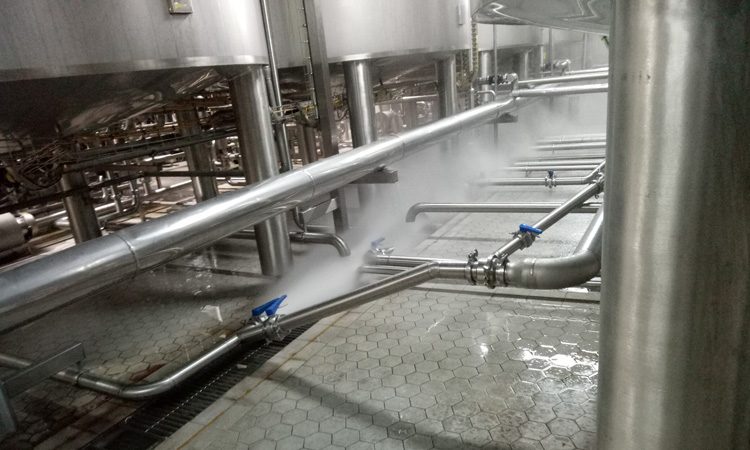 Thorough cleaning to ensure that hygiene standards are met is a fundamental part of a food processor's job and as manufacturing trends evolve, so too must the techniques that serve them.
We are seeing very strong growth in the ready-to-eat meals market. An increase in the number of single-portion products – take-away food, for example – shows that people do not like to spend time cooking anymore. Instead, they value the convenience and speed of being able to eat a tasty or 'exotic' meal that takes just 10 minutes, rather than two hours.
The challenge for us – as a company that provides cleaning and hygiene products for food manufacturers – is that these processes require exceptionally high levels of hygiene. We must understand all the microbiological risks and work closely with the manufacturer to ensure the right results.
Companies such as ours must continually expand, offering not only cleaning and disinfecting chemicals, tools and equipment, but services such as food safety consultancy. This evolution is a natural progression because in order for us to have a thorough understanding of what constitutes 'cleaning and hygiene', we must be aware of the risks posed to food safety, as well as developments within European food law or the US-oriented FSMA (US FDA's Food Safety Modernization Act).
Recent updates in food safety standards – driven by the Global Food Safety Initiative (GFSI), such as in the BRC version 8, IFS version 6.1 – and cleaning and disinfection processes, should be validated, documented and monitored on a daily basis. Consequently, food processors are having to implement tools and systems such as intelligent cleaning sensors, data management and analytics, which enable anomalies to be flagged up and resolved quickly, so that food safety and traceability can be assured.
Cleaning in Place
The most used cleaning application for many food processors is Cleaning in Place (CIP) – ie, cleaning that does not require the dismantling of production equipment.
Most production environments will have one central cleaning unit that is connected to all closed food production processes. This centralised CIP unit pump connects to all pipes and components that need to be periodically cleaned from within. Traditionally, CIP installations first rinse the system with warm water, then use an effective yet affordable cleaning solution, like sodium hydroxide or nitric acid, for a thorough cleaning before finally rinsing with water. Once completed, the production line can be used again.
CIP systems have evolved, most notably in recent years. For a long time, the 'remote washing machine' approach (with one central CIP station that does all the cleaning in a production environment) has been the most common way to use CIP. However, since modern food consumers want more variety on their plates, increasing numbers of food producers are leaning towards more decentralised CIP systems that consist of several satellite CIP units. These new systems are better suited to meet varying CIP demands and therefore offer more flexibility combined with the required traceability.
To determine which CIP system is best for you, you need to investigate your specific needs – from the products being processed to the local environment and circumstances. Oftentimes, some kind of hybrid system turns out to be the best solution for the job.
Hygienically designed
CIP installations should be designed, fabricated, constructed and installed according to hygienic design principles to ensure a consistently effective operation.
Since it is difficult to inspect the cleaning results from within, it is important to control all hygienic aspects of CIP cleaning on a detailed level. The best way to achieve this is by applying hygienic engineering and design guidelines throughout all design, fabrication, construction and installation stages.
We must understand all the microbiological risks and work closely with the manufacturer to ensure the right results
Another significant benefit of applying this approach is that hygienic design CIP installations generally use less water and cleaning solutions, which makes them more sustainable and efficient. The newest CIP systems also focus on product recovery and help to minimise food waste.
Assessing your needs
The quality of the cleaning solution, of course, affects the results. So when choosing a cleaning solution, you should address the specific cleaning needs of your installation and the product that you produce.
A well-suited, tailor-made cleaning solution will not only improve the cleaning results, but will also let you accelerate the cleaning procedure, which increases productivity. It also reduces the risks of food contamination, call backs and shut downs.
The importance of good CIP is often undervalued, but only by people who do not realise how much effective CIP contributes to lower total costs of operation. Since CIP is a complex working field that requires the combined expertise of food technologists, microbiologists and engineers with knowledge of flow mechanics, it is advisable to consult the necessary experts before making any irreversible investment decisions.
Open Plant Cleaning
Open Plant Cleaning (OPC) is another technique implemented across many processing plants. With labour costs representing more than 60 percent of the total cost of cleaning in the processed food industry, it is understandable that any increase in the cost of labour can be cause for concern.
It is time to challenge traditional open plant cleaning methodology. Cleaning processes have been the same for over 30 years, refined over time to achieve optimal hygiene results with a balanced selection of labour, chemical, equipment and time. Yet it has always followed the same basic methodology.To clean such a setup, appropriate products have evolved to suit it. Approximately 20 years ago, we began using foam cleaning; 10 years later, long sticking gel products were developed. These were high quality products, but too costly. Over the last few years, we have developed a range of products that combine the ease-of-use of a foam with the quality of a gel, but at a much lower price point.
The product range is based on a technology called Enduroand, which is thixotropic in nature, so produces a long-lasting foam, which is easy to rinse off.
In western Europe two of the largest costs for manufacturers are labour and water, so when developing cleaning techniques, we must be mindful not only of food safety, but also operational efficiency. Companies must therefore ensure they have all the necessary steps in place to guarantee not just a good cleaning practice, but a cost-effective one. For example, documenting the cleaning procedure sufficiently, using the right amount of foam product with a high degree of automation, and the use of equipment such as an automated conveyor belt, oven or freezer cleaning installations.
The future of cleaning
Food and beverage producers face many challenges, with sustainability being one of the most significant. Industry must be mindful of water consumption, carbon footprint and waste. Optimisation of all cleaning applications, without compromising food safety, remains top priority when it comes to meeting these ambitious targets.
About the author
Hein Timmerman is the Global Sector Specialist in Dairy and Processed Food at Diversey, an American-based company with expertise in food technology and microbiology. In this role, he has been actively involved in technical support and training for their global customers. He has also been involved in the European Hygienic Engineering and Design Group (EHEDG) for many years.
Issue
Related organisations