IAFP European Symposium on Food Safety
29 – 31 March 2017
Brussels, Belgium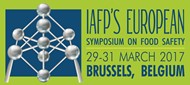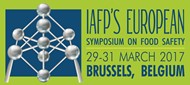 Date: 29 – 31 March 2017
Location: Brussels, Belgium
Email: [email protected]
Website: www.foodprotection.org
Event Description:
Since 2005, the International Association for Food Protection (IAFP) European Symposium on Food Safety has been shaping the future of food safety by providing a forum for the exchange of ideas with colleagues from across Europe working in industry, government and academia. This well-known food safety conference in Europe draws food safety professionals from across the continent and throughout the world.
For 2017, IAFP's European Symposium on Food Safety will be held in Brussels, Belgium, 29–31 March, where more than 300 participants are expected to convene for three days of intense learning, sharing and networking. Two Pre-Meeting Workshops will be held simultaneously on Tuesday, 28 March, and include:
 Next Generation Sequencing: A Tutorial and Hands-on Workshop to Help Understand This Emerging Technology; and
 Challenge Testing to Assess Bacterial Growth in Food: Which Guidelines, Which Tools to Optimize Food Formulation or Food Shelf Life?
The symposium will include more than 140 poster and technical presentations taking place at the Square – Brussels Meeting Centre throughout the following three days and covering an array of food safety topics and issues. This year's recipient of the European Student Travel Scholarship will also be recognized during the symposium. A Thursday Evening Social is planned at the Brussels Event Brewery.
Exhibits will be on display from a variety of companies, providing attendees with another avenue to exchange ideas and information on existing technologies and applications, new concepts and innovative designs, and the availability of products and services.
For more information on this symposium, visit: https://www.foodprotection.org/europeansymposium/.