Vitafood Europe 2017
9 – 11 May 2017
Geneva, Switzerland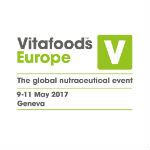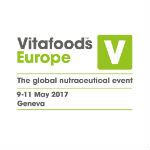 Date: 9 – 11 May 2017
Location: Geneva, Switzerland
Email: [email protected]
Website: www.vitafoods.eu.com
Event Description:
Vitafoods Europe, the annual event where the entire nutraceutical supply chain does business, attracts 18,500+ of the most senior decision-makers across the globe within the four key industry areas; Ingredients & Raw Materials, Contract Manufacturing & Private Label, Services & Equipment and Branded Finished Products.
With 1,000+ global suppliers providing 1,000's of innovative products, Vitafoods Europe provides visitors the opportunity to source ingredients, raw materials, dietary supplements, functional food & beverages and high quality services & equipment to help grow their business.
Plus, through strong event content and educational visitor attractions, visitors can gain crucial advice and expertise on market trends, regulatory complexities, packaging and labelling challenges and market drivers, helping make better strategic business decisions.
Benefits from attending:
· Discover innovative products and services
· Source new suppliers
· Network with industry peers
· Meet technical experts
· Explore the latest trends
· Find product development solutions
· Make better business decisions
· Give your products a competitive edge
Register for free entry at www.vitafoods.eu.com<http://www.vitafoods.eu.com>
Running alongside the exhibition is the Vitafoods Europe Education Programme 2017, bringing together some of the leading names within both academia and industry. The programme will deliver 45+ in-depth presentations and panel discussions with 50+ expert global speakers. Content is divided into 3 clearly focused content platforms, each with a clear target audience:
· Vitafoods R&D Forums – Focusing on science for an audience with a higher level of pre-existing knowledge in research and development
· Vitafoods Business Workshops – Focusing on business for an audience working within leadership, business, marketing and regulation
· Vitafoods Summit – Focusing on probiotics and produced in association with the International Probiotic Association (IPA)