Africa Food Manufacturing
22 – 24 April 2017
Cairo, Egypt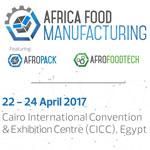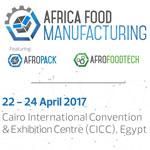 Date: 22 – 24 April 2017
Location: CICC, Cairo, Egypt
Email: [email protected]
Website: www.africa-foodmanufacturing.com
Twitter: #AFMExpo
Event Description:
Africa Food Manufacturing is the largest exhibition in Egypt and North Africa dedicated to excessively serve the Food Manufacturing and Food Packaging business. It is the ultimate hub to meet professionals and decision makers from the leading companies of processing & packaging equipment & solutions, including machinery and materials for printing and shrinking, food and beverage technology, packaging solutions, equipment and much more. In order to empower the industry and meet its needs, we are introducing AfroPack and AfroFoodTech as parts of the exhibition.
AfroPack is the latest platform to showcase wide range of technologies and solutions for the packaging business including packaging materials, machinery, equipment and printing solutions.
AfroFoodTech sums up all of the advanced machinery and supportive solutions & services that are required in the processing and manufacturing cycle in one place.
The show has been running for 5 editions under the name of Afro Packaging and Food Manufacturing with high exposure and to make it even more successful, we have rebranded the show by adding more features to help you meet your business objectives